Event: Vocal Solo Competition / Small Ensemble Festival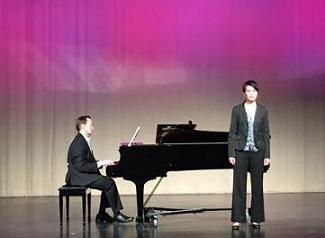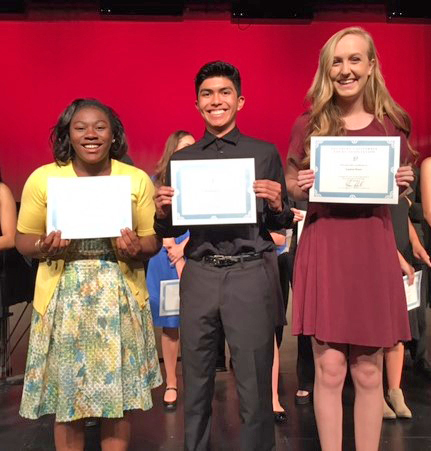 Application and Payment Deadline: Friday, January 3, 2020
Preliminary Round Sites
January 25: Fullerton Union High School, 201 E. Chapman Avenue, Fullerton, CA 92832
SITE HOST: Stacey Kikkawa, (714) 626-3984, skikkawa@fjuhsd.org
January 25: Newbury Park High School, 456 N. Reino Road, Newbury Park, CA 91320
SITE HOST: John Sargent, (805) 498-3676, johnsargent@conejousd.org February 1: Irvine High School, 4321 Walnut Ave, Irvine, CA 92604
SITE HOST: Tina Peterson, (949) 936-7135, tinapeterson@iusd.org February 8: Providence High School, 511 S. Buena Vista Street, Burbank, CA 91505
SITE HOST: Marisa Bradfield, (818) 846-8141, marisa.bradfield@providencehigh.org
February 8: Rancho Cucamonga High School, 11801 Lark Drive Rancho Cucamonga, CA 91701
SITE HOST: Kelley Squires, (909) 989-1600, rchschoralmusic@yahoo.com
Final Round
Saturday, March 21: Bethlehem Lutheran Church, 12227 Balboa Blvd, Granada Hills, CA 91344
11:00am - Junior High Voice, Classical High School Voice
2:30pm - Musical Theatre, Jazz Voice and Ensemble Encore Performance
Eligibility
Any director/voice teacher with a current membership in SCVA (having paid their membership dues for the current school year) is eligible to send students to the competition and/or festival
Eligible students must be in grades 6-12 for the classical vocal solo competition.
Eligible students must be in grades 6-12 for small ensemble festival.
All participants must ensure that they are available for all dates and times before completing the application. The competition is a significant time commitment.
Participants must be active members of a school choral program (if applicable).
All Solo participants who earn a superior rating will be invited to the CMEA State Solo and Small Ensemble Festival.
All ensembles will receive an adjudication with comments and scores. Superior ensembles will be invited to perform at the Finals, but they don't compete.
Participation Fees
$30 for a solo performance
$35 for duet, trio, quartet, or small ensemble
All applications must be accompanied by a school check or money order payable to SCVA or a PayPal receipt. Please, no personal checks or cash.
All application fees are non-refundable
Guidelines and Rules
To be eligible for the vocal solo competition, students must perform a classical music, musical theatre, or jazz standard solo. A selection from the 26 Italian art song book, or equivalent is recommended.
Ensemble pieces may be performed with no more than one person per part. (i.e. a five part madrigal will have 5 singers)
Adjudicators will be provided with original copies of the selection with all measures clearly numbered or a rating will not be given.
The use of illegally photocopied material will disqualify the soloist from the competition or prevent the ensemble from receiving a rating. The performance may take place for "comments only."
All performers must provide their own accompanist.
All solo performances must be accompanied.
When performing music requiring accompaniment, recorded accompaniment is not acceptable. Only in the circumstance of performing modern or avant-garde music in which the use of recorded accompaniment was the composers intent, will an exception to this rule be appropriate.
Performers may not accompany themselves.
All solo performances must be memorized. Ensemble performances may choose to perform with scores.
No rating or comments will be provided to soloists or ensembles who have not met the eligibility requirements.
All performances will be allowed a total of 10 minutes, including exit and entrance to the performance space as well as oral comments from the adjudicator.
Registrations to participate will only be accepted online.
Soloists receiving a superior rating will advance to the final round (date and location to be announced)
Soloists and ensembles may choose to participate for "comments only" and not be rated or considered for the competition.
SCVA does not require that the performer(s) stay beyond their performance and adjudication appointment. However, it is highly recommended that students sit in and listen and learn from attending each two hour block. The sponsoring school teacher may require that the student attend the entire session.
Cash scholarships will be paid to qualifying finalists in all categories.
Performance Information
Selections should be appropriate to the singer's age and experience level.
Participants have a total of 10 minutes to perform and work with the adjudicator.
Singers must provide their own skilled accompanists for all performances in the competition or festival.
There will be a concert of finalists after which the highest ranked Junior High student and the top four High School students will be given awards.
All students must provide original copies of their music for all performances in the competition or festival
Contact
Marisa Bradfield, e-mail: marisa.bradfield@providencehigh.org